Cornish Art.

Welcome!  Here are some of my latest oil paintings of the Cornish Coast. I mainly paint the South Coast of Cornwall – from Lands End around to Falmouth.

Some of my favourite places include The Helford, Coverack, the Lizard Peninsular, Kynance Cove, Praa Sands and Porthleven to name but a few.

I hope you enjoy the work!
---
See Portfolio
Available to buy online.

 Fast and free delivery to your door…
More about the artist.
Welcome to Cornish art,  the online art gallery exhibiting my latest Seascape Paintings.  I hope you enjoy the work!

I live with my amazing family next to one of Cornwall's most stunning beaches, Praa Sands in West Cornwall.

We have been here for around ten years now and feel so blessed to live in such a great place. It's  so inspiring waking up to the sound of the waves breaking on the shore a few hundred yards from our home, and being able to walk across the sand as the sun rises each morning.

My studio is a short walk up the cliff and looks out across the bay and as I paint the tide sneaks in and then out again as I get caught up in the act of painting…..
Read more…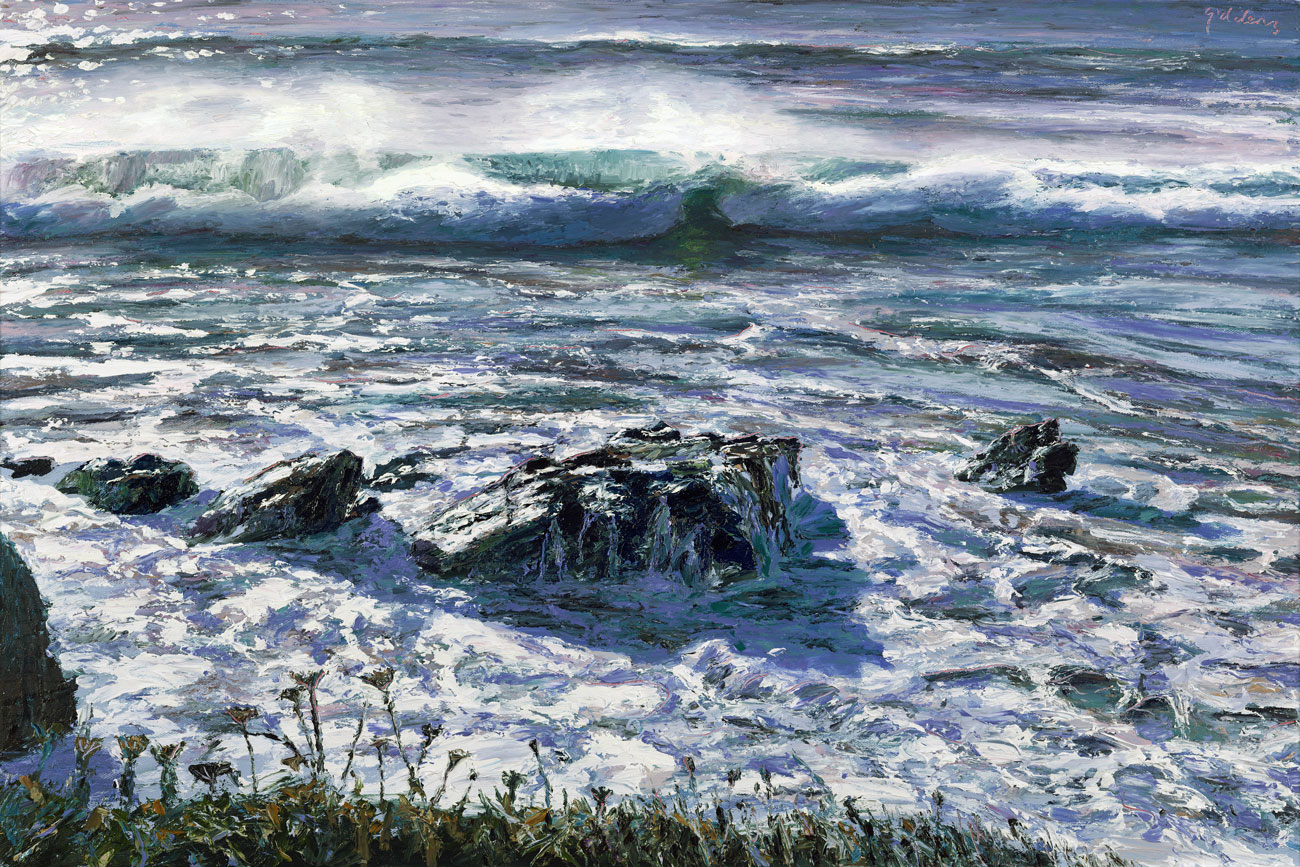 Cornish Art.
Cornwall has a long history of artists that have been fascinated by the beauty of the Cornish coast, and the quality of the Cornish light. The wild Atlantic ocean has shaped the coastline in to a mix of rugged cliffs, headlands and sheltered coves, that when lit up by the sun, especially throughout the winter months, dazzle with majestic beauty.

So inspiring are the combination of these elements that for many years Cornish artists have been drawn to these shores to express an inner awe, a cry of wonder sounding through their chosen medium, be it stone, wood, paint or clay.

Cornish art has a reputation for capturing that raw elemental voice of the human soul that many feel when faced with overpowering visual stimuli, those moments when we glimpse a wider perspective of our lives and the world around us. It is this underlying passion that runs through the veins of the most successful Cornish art, and sets it apart from the norm, touching something at the very core of our humanity….
Read more…